Conchita's visit to Padre Pio
The interest which Padre Pio showed in Our Lady's Message underlines the importance of the Apparitions at Garabandal. In 1967, Conchita had been called to Rome by Cardinal Ottaviani, Prefect of the Holy Office, now called the Sacred Congregation for the Doctrine of the Faith.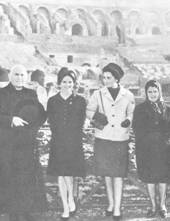 It was during this time Conchita had a private audience with  Pope Paul VI. Since Conchita had to wait a day before meeting with Cardinal Ottaviani, it was decided that she, accompanied by her mother and the other members of the party, would visit Padre Pio at San Giovanni Rotondo.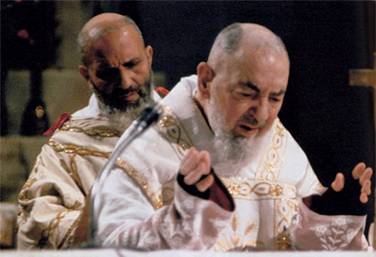 One of the prophesies of Our Lady regarding the Miracle was that the Holy Father would see it wherever he may be at that time and Padre Pio would see it too. After the death of Padre Pio, Conchita visited Lourdes at the request of Father Cennamo OFM, a fellow Capuchin, who was well known by Padre Pio. Conchita asked Father Cennamo " How is it the Virgin told me Padre Pio was supposed to see the Miracle and he has died?" He answered "
He saw the Miracle before he died. He told me so himself.
Padre Pio's veil given to Conchita
Another significant event concerns the veil which covered the face of Padre Pio after his death. Father Cennamo was told by Padre Pio before his death to give the veil to Conchita. On handing the veil to Conchita, Father Cennamo told her that he did not believe in the Apparitions of Garabandal until Padre Pio told him to give the veil to her.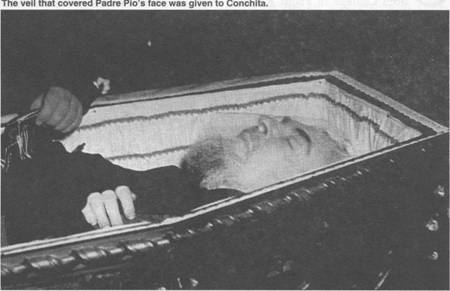 Padre Pio's life and sanctity reflect Our Lady's Message
It is also very significant that the life and sanctity of Padre Pio were a true reflection of the Message given by Our Lady to the world at Garabandal, a Message of prayer, in particular the rosary, penance and self sacrifice and an intense, deep rooted devotion to the Eucharist all of which were the central theme of Padre Pio's own life which he encouraged others to adopt  a model to follow.