As the apparitions continued, a new phenomenon began to occur — that of the ecstatic fall. While in ecstasy, from either a kneeling or standing position, the children would fall backwards until they were flat on the ground. They were never harmed from this and their clothing never became immodestly ruffled or indecorous.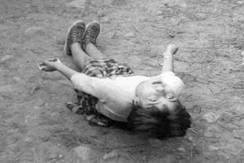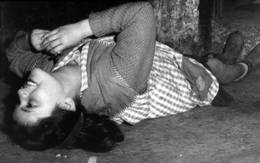 Loli during an ecstatic fall.
In this horizontal position they would remain in ecstasy and without using their hands or pushing themselves up in any way, they would return to their original or standing position. When two or more of the children would fall together, their movements were perfectly synchronised. One witness, Canon Julio Porro Gardenoso, said it could be likened to throwing the light switch in a large conference hall where all the lights go out simultaneously.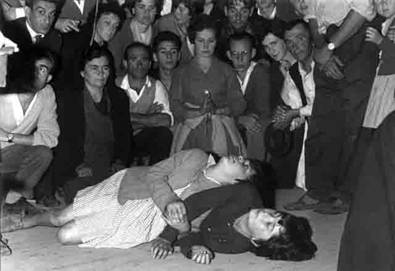 The positions of the girls` bodies as they lay upon the ground after an ecstatic fall bore the mark of the supernatural and were described by onlookers as beautiful " sculptures".